Welcome to Relojearte
Antique watches, modern and timeless art.
I have been settled in Washington DC since 2008 after 40 years of sharing this family work with customers all over the world. It all started in Uruguay where my father-in-law created the first of this unique pieces. The gears found in the antique watches insipired him to capture the movement and the exquisite intricacy in automobiles and other machines. I have always admired the aesthetics of muscial intruments and I combined the notion that the time - tempo - in music sets the mood of a piece, to create musical instruments with watch parts. I want my pictures to transmit these ideas as well as allow the viewers to find their own connection.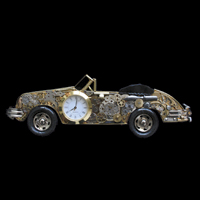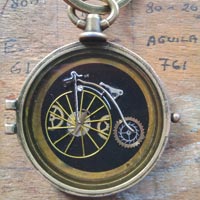 Our pieces are made individually using mostly vintage watch parts. All these pieces are one of a kind so the photos represent the designs I create. If you like to purchase a piece please email me and I can provide more information about the pieces I currently have in stock or visit me at any of my upcoming shows listed below of the home page . Custom work is also available.
Upcoming Art shows & Festivals 2021
A-RTS Rockville Arts Festival at Rockville Town Square, MD
Saturday September 4th - 11am to 6pm / Sunday September 5th - 11am to 5pm
Walk the streets of downtown Rockville as it is transformed into a brilliant spring outdoor art gallery highlighting the industry's best local, regional and national artists. See the industry's best in glass, ceramics, jewelry, painting, photography, sculpture, woodwork and more. The 7th annual Rockville Arts Festival (formerly A-RTS at Rockville Town Square) creates an outdoor art gallery on the streets of Rockville Town Square, Rockville, Maryland (Maryland Ave, E. Middle Street and Gibbs Street). Streets are closed to traffic for the Festival. The Festival is in easy walking distance from the Rockville Metro station (Red line) and numerous garages are conveniently located around the site.